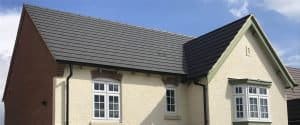 If you're looking to upgrade the exterior of your home, whether it's a new roof, new roofline elements or simply a fresh coat of paint on the outside of the building, have you considered matching your roof with your house colour? Well, take a look at the following statistics and maybe you'll think again; especially if you're planning on putting it on the market anytime soon!
Almost a third of homebuyers in the UK would pay 25% more on a property that's been freshly painted and fitted with a new front door,
The simplicity and freshness of classic white retains its crown as king of the most popular front door and masonry colours in Britain,
Most UK homeowners haven't refreshed their property's exterior aesthetics in 8 years or more.
The general rule of thumb with exterior property colours is that darker colours will make your home appear smaller, whereas lighter colours generally make homes look much bigger. Traditional homes tend to look best when you stick to a more classical colour palette, whereas more modern properties generally suit bolder colours. It's also important to take your areas surroundings into account, as well as the neighbouring properties aesthetics. Complement your roof or property colour rather than strictly matching them both together, e.g. stick with the same colour scheme but pick a different shade. Furthermore, certain colours can affect the energy efficiency of your home; where lighter colours will reflect heat whilst darker colours will absorb heat – so, location plays a big part in your colour choice too. With this in mind, we've compiled the following examples for you:
Redbrick houses
If you're lucky enough to have a redbrick home but need to replace the roof, traditional dark grey or black roofs with a light-coloured trim (fascias, soffits & guttering) will generally complement redbrick properties. Avoid red hues with redbrick houses, remember coordination is key.
Roof colours that complement redbrick exteriors
Yellow houses
With a yellow exterior, there is room for more flexibility in the colour scheme. Lighter roofs really complement a yellow property, so shades of brown, grey or white could work really well here.
Roof colours that complement yellow exteriors
Green roofs
If you have a green tiled roof and need to update its exterior, a lighter shade of masonry paint will complement your homes aesthetics coupled with light coloured trims e.g. a paler green, white, cream or light grey.
Exterior colours that complement green roofs
If you'd like to tap into our vast home improvement knowledge, please get in touch with the Emerald Home Improvement staff who will be happy to provide additional advice on which colours will suit your particular roof or home.