The Beatles are one of the most iconic and well-loved rock bands of all time. With dozens of hits under their belt, and fans all over the world even nearly 60 years after their first hit (there's even a World Beatles' Day!), they really need no introduction.
They were noted for being experimental and innovative, particularly in their later years. As a result, their songs are incredibly wide ranging and varied, from pop ballads to psychedelia, complete with very strong imagery (again particularly in the later years…). So, we had the idea to visualise what rooms inspired by some of our favourite and most well-known Beatles songs might look like. Are there elements you might want to pull into your own interior décor?
All You Need is Love
Need we say more? This bedroom will make you feel happy, warm and fuzzy. Inspired by the song's connection to flower power, this utopian vision exudes joy and tenderness. Feel your spirits lift as you enter this bedroom… It's easy…
Global Beatles Day takes place on 25th June each year in tribute to the 'Our World' performance at which this song was performed by the fab four.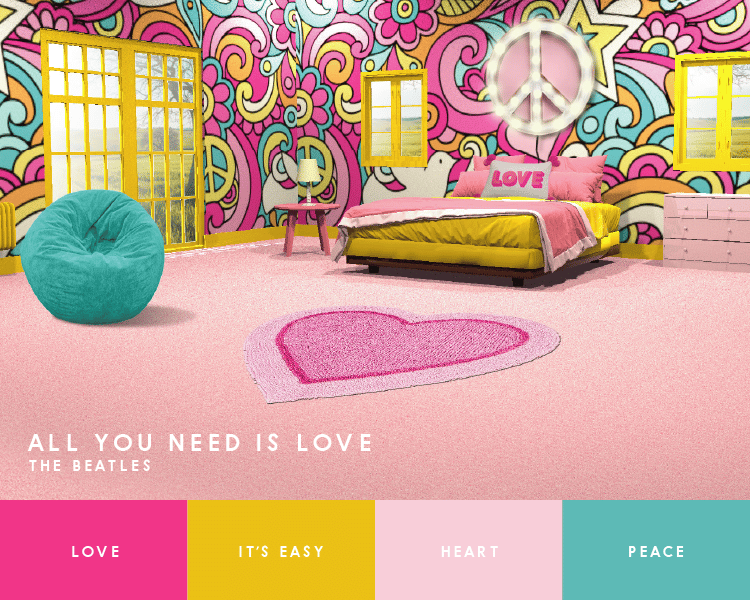 Blackbird
This atmospheric living room design evokes the haunting melody of 'Blackbird'. Best enjoyed in the dead of night, it's a room for contemplation and hope. Whether you think of the struggles of those less fortunate or simply reflect on the beauty of nature through the Blackbird's call, you can explore your thoughts in this simple yet striking room.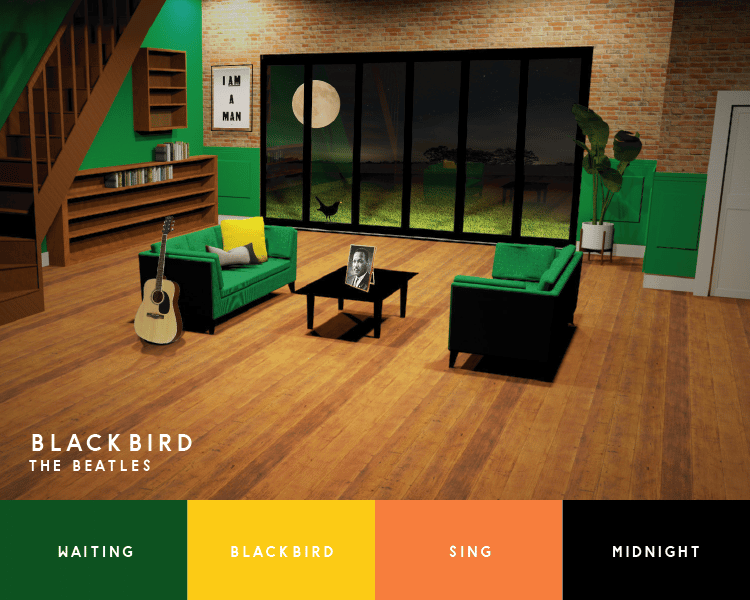 Eleanor Rigby
If you're a fan of the solitary life, our Eleanor Rigby-inspired bedroom is perfect for you. It might be hard to explain the face that you keep in a jar by the door to your significant other, after all. Very much an austere kind of look, this one, which looks back to days gone by. With a single chair by the window (perfect for darning your socks in the night), and a drab navy, tan and brown colour scheme, this is a room that Eleanor herself would be proud to call home.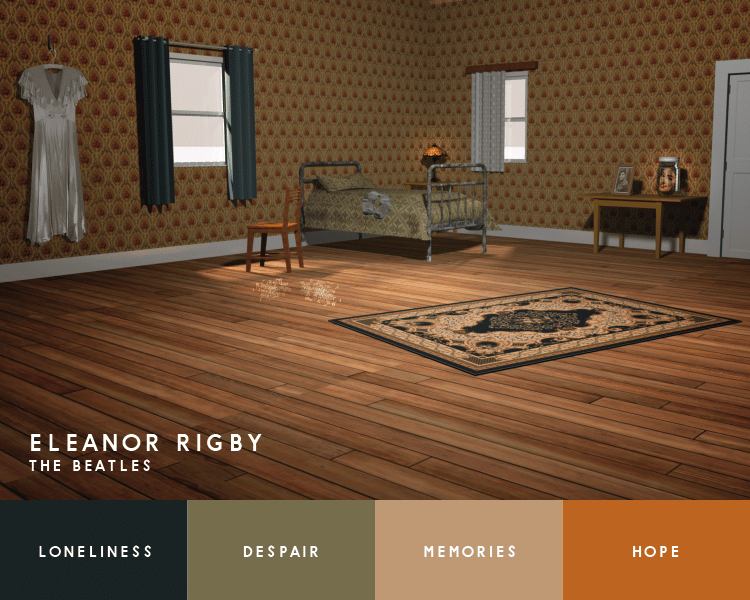 Here Comes the Sun
In complete contrast to Eleanor Rigby, this room is all about brightness and fun. When it's been a long, cold, lonely winter, you'll want to soak up some rays on this sun terrace inspired by one of the Beatles' most upbeat hits. With a bright and warm colour scheme to reflect the heat of the sun, you'll experience feelings of joy and relaxation like never before.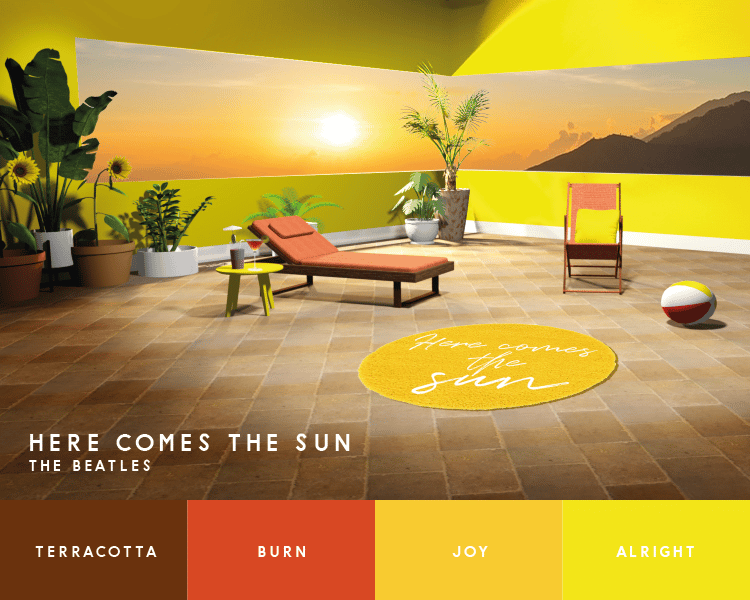 Yellow Submarine
The band's 13th single release in the UK, this song was anything but unlucky for them. It stayed at number 1 for 4 weeks and won an Ivor Novello award! Originally intended as a nonsense song for kids, it's happy, light and fun…
…just like our Yellow Submarine-inspired bathroom. You too can live a life of ease in this sea of bright blue and yellow, with bright red and pink accents. Porthole windows and a periscope will make you feel like you're really living beneath the waves, with your friends all aboard (although you probably won't want them in the bathroom with you!).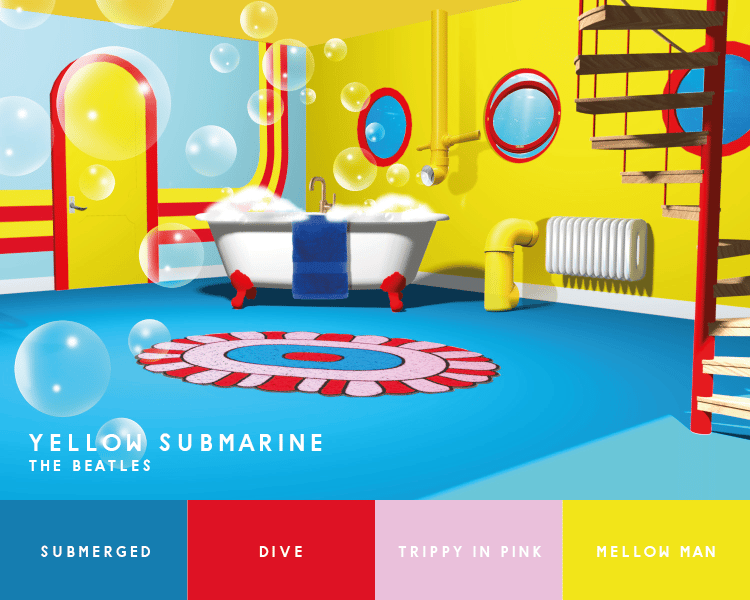 When I'm Sixty-Four
When you get older, losing your hair, you'll love to spend time with your beloved in our When I'm Sixty-Four-inspired living room. Where it's always quarter-to-three and there's always a Valentine on the mantlepiece. It's all about the passage of time and growing old together, which is a rather lovely thing to do. With cosy colours and a roaring fireplace, it's somewhere to snuggle up together and enjoy a bottle of wine.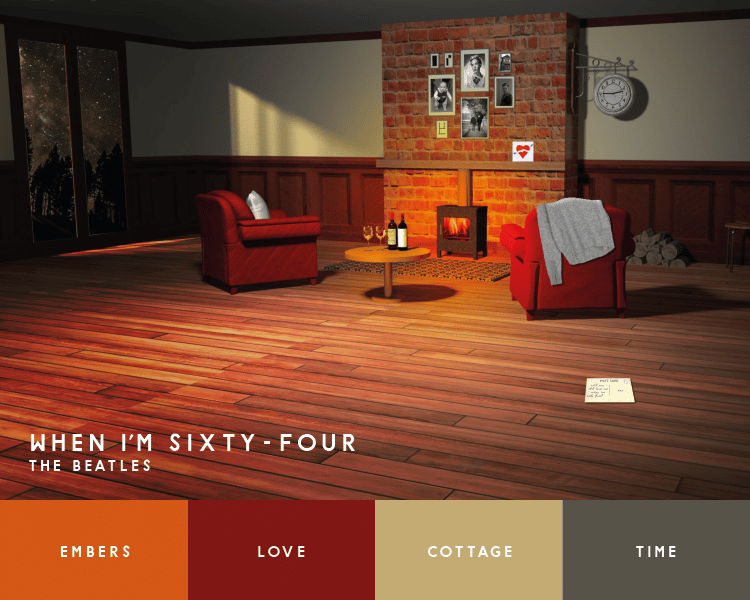 Octopus's Garden
We'd like to be under the sea… and that's just where you'll feel you are with our Octopus's Garden-inspired bathroom. It's the perfect hideaway from the stresses of the day. With deep blue-green walls, sea-inspired flooring, porthole windows, and shell accents, you'll feel warm below the storm as you soak your cares away.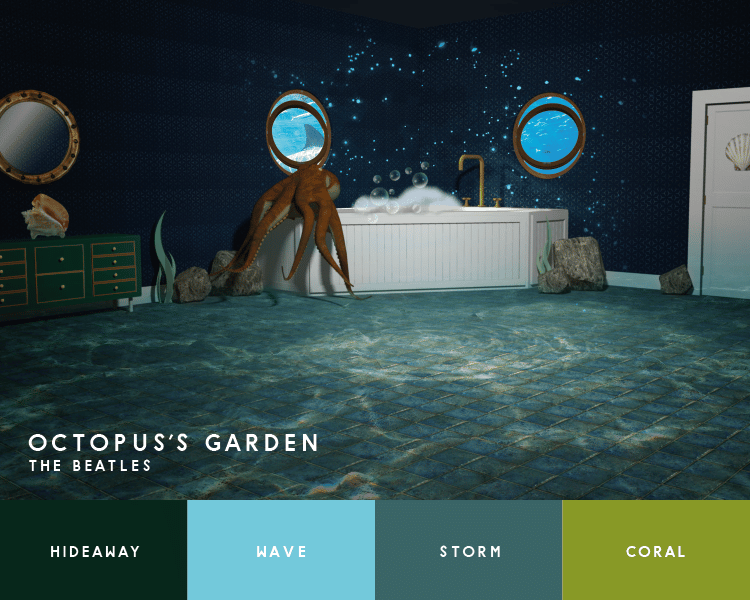 Lucy in the Sky with Diamonds
Well, what can we say about this one? Inspired by one of the band's… trippier numbers (which in turn was inspired by a drawing done by John Lennon's son), this living room features an icy, pale colour scheme, with leather sofas and diamond-shaped accents. With your head in the clouds you can dream of tangerine trees and marmalade skies to your heart's content.