Porches are an ever-popular addition to your home. Whether you opt for a porch due to aesthetic reasons, safety, or convenience, it will have a positive impact on your home. If you haven't decided whether a porch is right for you, why not check out our related guide: should I add a porch to my home? In today's market, there is a vast amount of variety when it comes to porch styles. With a choice in shapes, materials, and colours, you can create a porch that is personalised to your needs and home. With porches for every budget too, there truly is something for everyone.
In this article, we're going to take a look at how much a porch can cost, and the factors that will influence the overall price.
How much does an average porch cost?
The average porch costs around £3,500. This is for a traditional porch made from bricks, with a tiled roof, concrete floor, and glazed composite door.
This style of porch usually costs £1,000 – £1,500 per square metre, and ideally, you'll want around 3 square metres in size. A porch this size will allow you plenty of storage for things such as shoes, coats and umbrellas. What's more, a porch that is up to 3 square metres will generally not need planning permission. 
There are ways that you can vastly reduce this cost. Perhaps you want a doorless porch? Removing the cost of a composite door will drop the price down a few hundred pounds. Perhaps you don't want any windows? Substituting glazed windows for bricks, or simply leaving the porch with a more open design, will also save you a few hundred pounds.
So, as you can see already, asking 'how much does adding a porch cost?' doesn't have a straightforward answer. Let's take a look in more detail at the factors which influence the cost of adding a porch.
Factors that affect porch costs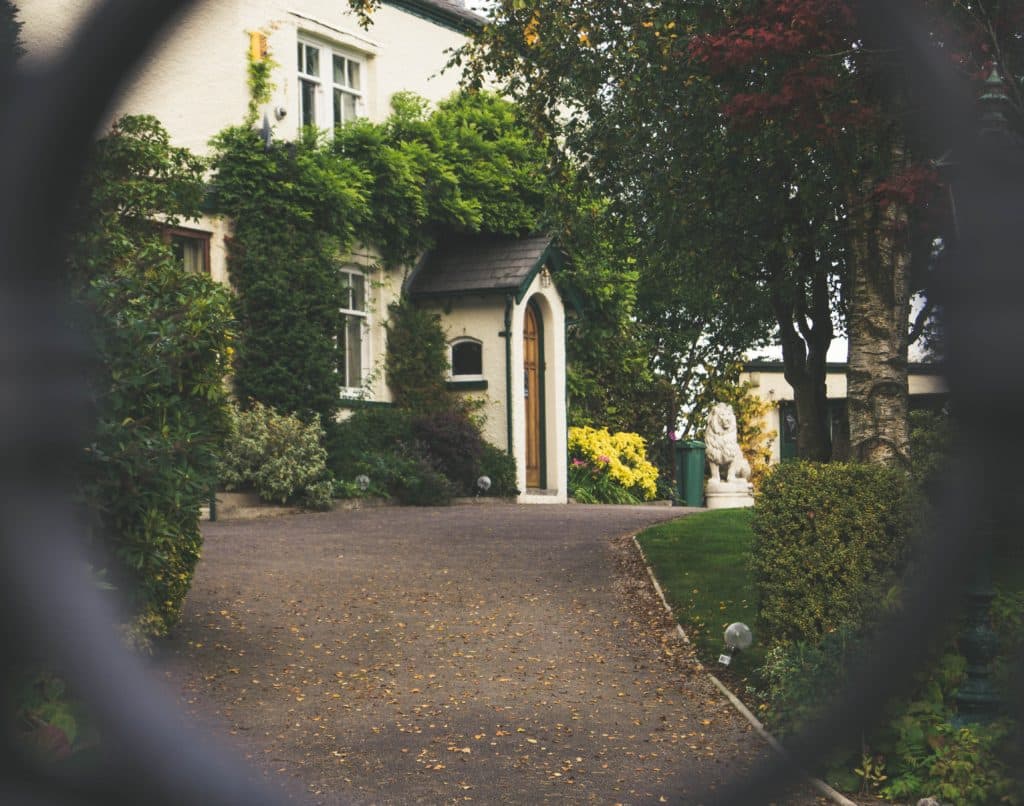 Type of porch
The type of porch that you choose will have a big effect on the overall cost of the project. Some types of porch are just more elaborate than others and the cost of some materials is higher. An open portico-style porch with columns and a roof cover will be a lot cheaper than a fully closed, weatherproof porch with glazing and a front door. When it comes to materials, uPVC and brick porches tend to be cheaper than stone and aluminium porches. 
The style of the porch you want will also have a large impact on the price. For example, how much a concrete porch costs without any bells and whistles will be considerably cheaper than a concrete porch with a hardwood door or a new security system. Likewise, you can't simply ask 'how much does a uPVC porch cost?' without considering the style of the porch first. Even though uPVC porches tend to be cheaper, if you choose a multi-faceted roof and decorative glazing for your uPVC porch, the price will jump.
Some of the types of porches that are available are:
uPVC porch

Brick porch

Aluminium porch

Closed porch – this is an enclosed, weatherproof structure with windows and a door

Open porch – this is a partially open structure, often with half brick walls or just a roof covering without glazing and a door
Size of porch
An influential factor on how much adding a porch costs is the porch's size. Standard porches tend to be 3 metres squared or smaller as this generally avoids the need for planning permission. However, if you want a grander entrance or plan to use your porch to store more belongings, you may opt for a larger porch. Unsurprisingly, the larger the porch, the larger the cost, as more materials, time and labour will be needed during construction. 
If you were to double the size of your porch to 6 metres squared, you could expect to increase your cost by roughly 75%. So, based on a typical 3m² porch which costs around £3,500, you could expect the cost to be roughly £6,000 – £6,500 for a 6m² porch if all the other variables except size stayed the same.
Scope of work
The more elements you want to include in your porch build, the more complex the build and the higher the cost. Naturally, the simpler and more minimal design of open porches lead to a cheaper cost as they just don't include as much work as closed porches. What's more, if you are carrying out a porch revamp or are refurbishing specific parts of an existing porch, this will also be cheaper than a completely new porch. 
Some of the key elements which affect porch costs are:
Brickwork

: you can choose between several styles for your porch structure: full brick walls, half brick/half glazed, or fully glazed. The price will ultimately depend on materials – plain bricks will cost less than special stonework.

Roofs

: how much a porch roof costs is influenced by roof style and materials. The simplest roofs are flat roofs or single-sided pitched roofs and these are, therefore, cheapest. Multi-faceted roofs like a double hipped roof are more complex and expensive. Materials also impact the price with roofing felt being cheaper than tiles.

Glazing

: there are lots of choices when it comes to windows and glazing. Decorative glass, including colours, patterns and textures, will cost more than plain glass. uPVC window frames will also be cheaper than other options such as hardwood.

Electrics

: adding electrics to your porch will increase the cost but will be necessary if you want lighting, power points or a security system installed.
Other costs
If you are adding a porch to the front of your house to boost kerb appeal, you may decide to add on other building work at the same time. Complementary work might include redoing your driveway, landscaping work for your front garden or adding lighting. After all, if you have a stunning new porch, you wouldn't want a crumbly old driveway spoiling the entrance. You may find with your new entrance, you need to adapt pathways or flower beds that were previously designed for your old entrance. Whether the work is big or small, you should account for all changes that will need to be made when calculating an overall cost for your porch project. 
Does a porch add value to a house?

Yes, a porch can indeed add value to your home. Provided the porch looks attractive, provides a practical space and suits the property it is attached to, porches are welcomed by valuers and prospective buyers. These three aspects are all important, influential factors when it comes to how much value a porch can add to a house. 

A porch will influence the first impression of a property and so an attractive, well-built and sympathetic porch can really enhance your frontage. Equally, if it looks dated, cheap or mismatched in style to the rest of the property, it can in fact have a negative effect. It is very important to get the design right to ensure your porch is a good investment. If your porch has a clear practical purpose, it is also more likely to add financial value to your house. For example, if your front door currently leads straight into a living space, a porch can be a valuable addition. Not only will a porch add handy storage space for outerwear and shoes, but it will also add a welcome buffer space between the outdoors and inside your home.

Emerald Home Improvements are experts when it comes to building attractive porches, designed to suit your individual home. We can offer many options when it comes to style, brickwork, glazing, doors and more. With accreditations from major industry bodies and hundreds of great customer reviews online, you can trust in our expertise and dependability. From our bases in Derby, Leicester & Belfast, we serve customers across the Midlands and Northern Ireland. Get in touch to discuss your ideas with our professionals today.