When to Replace a House Roof
People say the kitchen is the heart of the home. In that case, the roof is definitely the head of the house. And why wouldn't you want to protect that?
It's not uncommon for people to neglect their home's roof; after all, it's not something you give close attention to every day. But, it's a vital part of the home. It keeps the warmth in while keeping the elements out. It protects your home from damage, from wet weather, and the beaming sun. It's a very important structure.
If you carry out general maintenance on your roof, you can vastly improve its lifespan. For cleaning tips, take a look at our guide: How to Clean a House Roof.
But, what happens if you don't look after your home's roof? Let's take a look…
How Long Should a House Roof Last?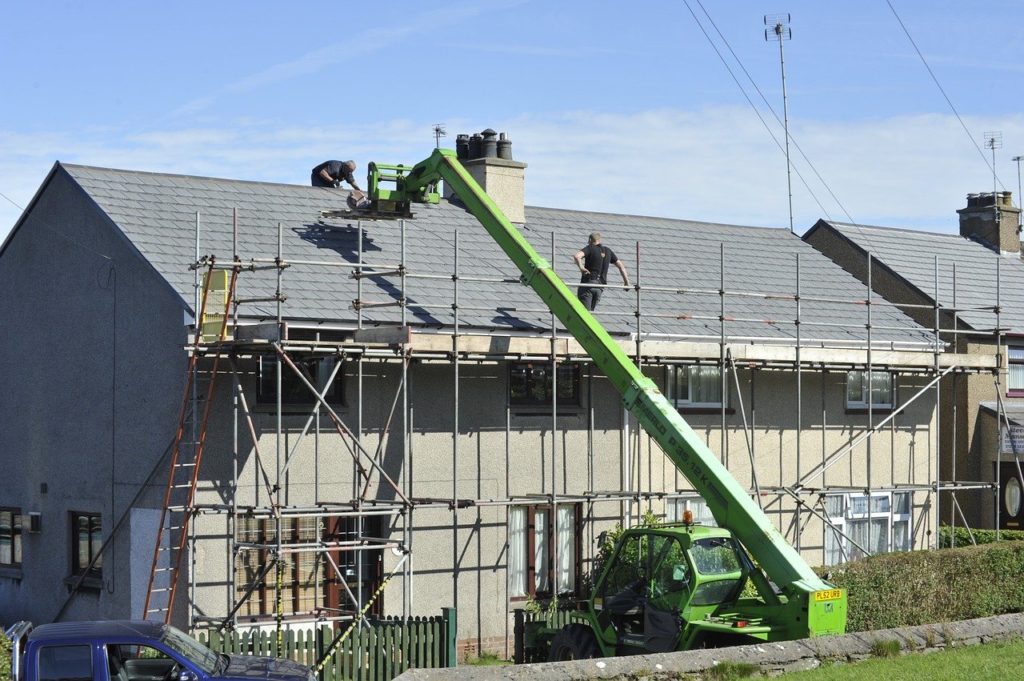 As mentioned above, it comes down to how much you look after your roof, but also, the type of roof that you have. For example, the answer to how long does a tile roof last is typically 50 – 100 years. On a new house, the average lifespan of the roof also depends on what material used to make it. Often, modern houses are fitted with asphalt shingle roofs as there's less upfront cost. Under these circumstances, your new home's roof will average 15 – 25 years.
Here's a breakdown of how long your roof should last (so long as you look after it):
Asphalt shingles (3-tab) – 10 – 20 years.

Premium asphalt shingles – 20 – 30 years.

Metal panels – 25 – 40 years.

Coated steel tiles – 30 – 50 years.

Clay tiles – 50 – 100 years.

Concrete tiles – 40 – 75 years.

Natural slate – up to 150 years.

Composite – up to 80 years.

PVC – up to 50 years.
As you can see from the averages listed above, your roof doesn't need to be replaced very often; in some cases, not even in your lifetime. The figures here are estimates, however. You must ensure that you carry out general maintenance a couple of times a year in order to keep your roof sturdy and healthy.
Signs You Need a New Roof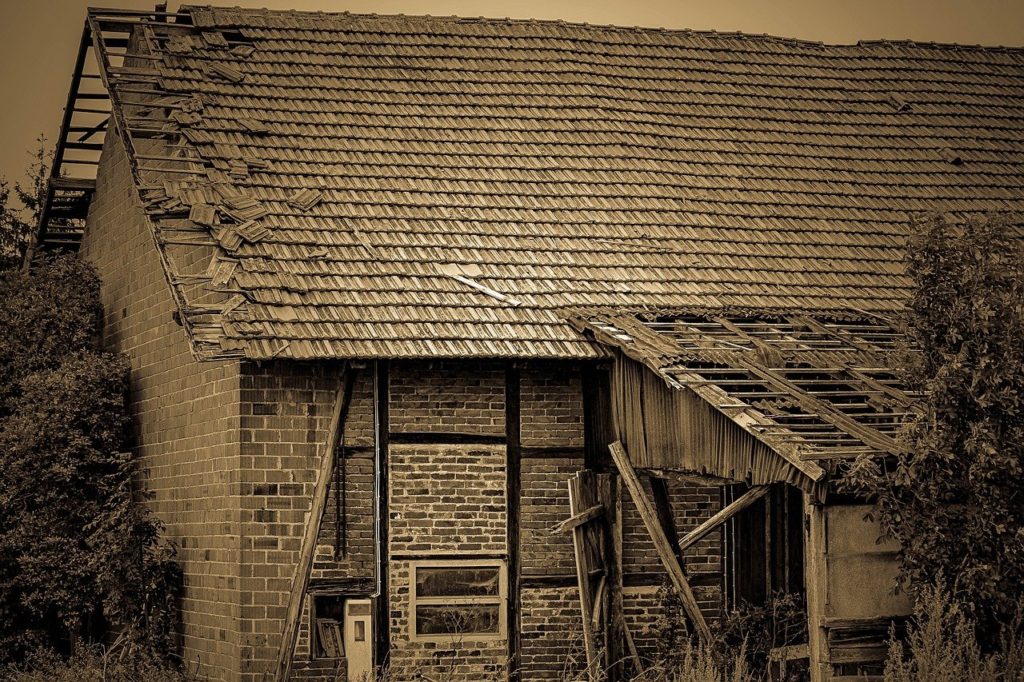 Sometimes it can be difficult to tell if your roof needs to be replaced. Some issues are obvious, while others are more subtle. A leaking roof is a very obvious sign that something is wrong. Moss, however, is a little more subtle – especially if you can't see your roof very clearly.
Signs Your Roof Needs Repairs
Leaking – there could be a number of reasons why your roof is leaking; tiles missing, cracks in the felt due to sun exposure drying it out; holes around the chimney.

Peeling exterior paint.

Shingles that are curled or cracked.

Shingles that are dark in colour.

Dirty shingles or shingles that look permanently wet.

Water stains on interior walls and ceilings (more so if you have a loft conversion).
If the points listed above are left for some time, your signs of roof repairs will become warning signs that you need a new roof. A new roof takes a few weeks to do and is a costly venture. We'd always advise that you sort out any repairs that are needed as quickly as you can. You may not be able to remove the need for a new roof entirely, but you can delay it by carrying out general repairs.
What's the Best Time of Year to Replace a Roof?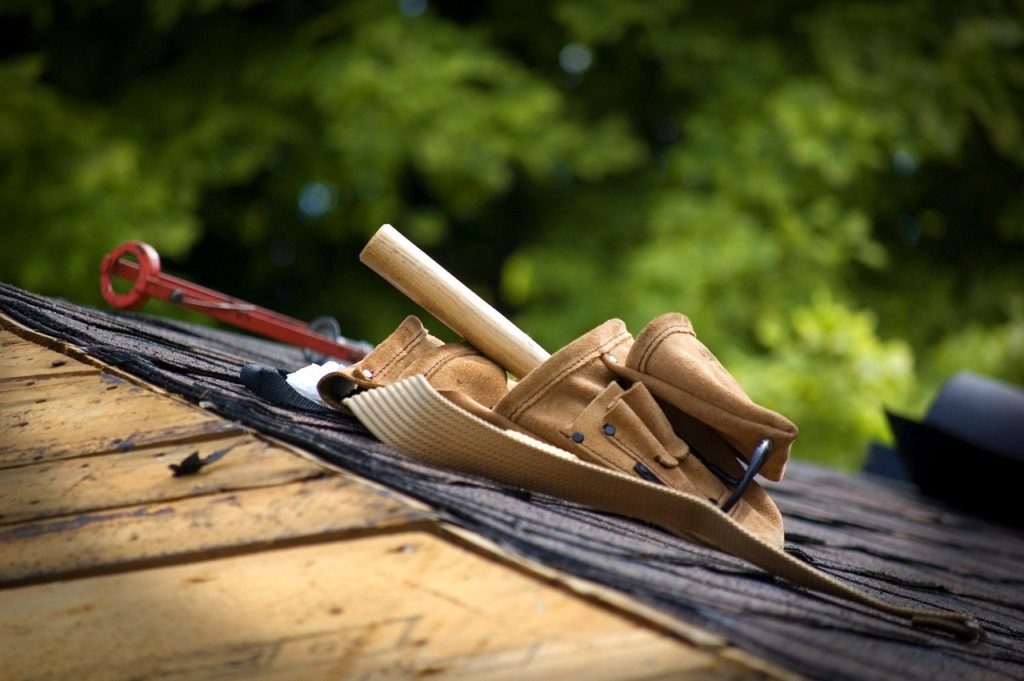 The best time of year to replace your roof is during any season that isn't the winter. Replacing a roof in winter isn't a good idea. The cold weather can cause materials to harden, and when presented with a nail and hammer, those materials are likely to crack.
In terms of urgency, the best time to replace a roof would be in spring and summer. Not only are the weather conditions much better for roofers to work in, but it's also a much quieter period. The busiest time of year for replacing a roof is autumn when homeowners start to prepare their houses for the colder months.
Weather Conditions for Roof Replacement
Although a new roof can be done in colder weather, it's always best to replace your roof in spring and summer. The weather conditions during these months provide a much easier installation for roofers. It also means that there's less chance of causing additional damage to your loft space if the weather is dry.
Should I Stay Home During Roof Replacement?
Depending on the severity of the replacement and the conditions surrounding it, there is no reason why you can't stay at home during a roof replacement. It's advised that you stay away from your garden or outdoor areas to decrease the likelihood of debris falling from the roof and hitting you.
How Long Does it Take to Replace the Roof?
This depends on the size and shape of your property; as well as the material that you use and the number of people that are doing it. With a competent company, a strong workforce, and good weather conditions, a new roof can take between a couple of days and a week to install.
Can You Replace a Roof in the Rain?

You can, but you shouldn't. Replacing a roof in the rain puts yourself and the people that you're working with at a much higher risk of slipping. It can also put your beams and loft area at risk of becoming wet adding further damage to your home.

To prevent the need of replacing a roof, always carry out general cleaning to maintain it. If that is no longer an option, seek professional advice from reputable roofing companies before committing to a decent-sized project. Not only does a roof provide you with warmth and safety, but it can also improve your home's market value; it's all about knowing when the right time is to take the plunge.