Planning on converting your garage? The first place (and best place) to start is the garage floor. You need to ensure that you have a good foundation to begin your work before you fix the walls and ceiling; this can be anything from insulating to laying down your preferred flooring.
In this article, we're going to take a deeper look into floor-types for a garage conversion, and all the things that you need to consider when converting a garage into a habitable space.
Floor Options for Garage Conversions
Once you have established the ground insulation for your garage floor (if you haven't, have a read of our guide Garage Conversion Insulation: What and How), you need to pick your flooring. Now, there are many types of flooring that you choose from. Here, we'll discuss the flooring options for garage conversions and the pro's and con's of each.
Acid-Stained Concrete
If you're planning on converting your entire garage, but only using half of it for office space, acid-stained concrete is a great idea.
Acid-stained concrete for your garage flooring creates a granite-like effect on the surface of the concrete. The acid-stain acts as a barrier from dirt and liquid spills which makes it a great choice if your garage conversion is dual-use.
The only downside to acid-stained concrete is that it is still concrete so it's a hard and cold surface; it's not as inviting as a carpet would be!
Epoxy Flooring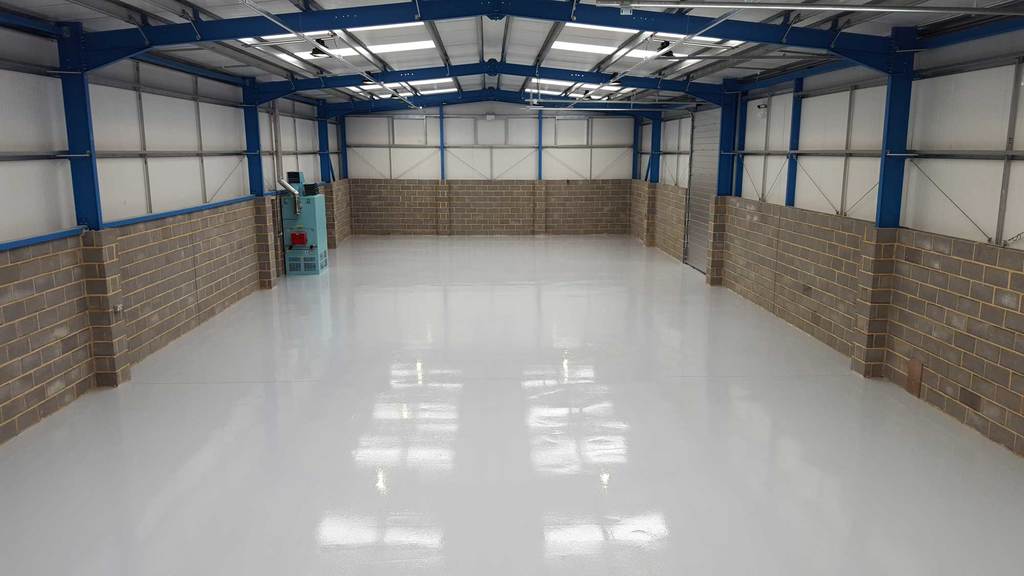 Epoxy flooring is slowly becoming a popular surface for garage conversions. Like acid-stained concrete, epoxy floors are excellent for dual-use garage conversions. Epoxy flooring is easy to clean up and can withstand dirt and car spills.
If you want to jazz up your epoxy flooring, apply decorative wood chips before the topcoat.
Carpet
Carpet is great if you plan on using the entire garage conversion for your office space. As we know, carpets don't lend well to liquid spills!
The other downfall to using carpet in your garage is that the material will soak up moisture. This can result in the carpet harbouring mold.
The plus side to using carpet is added warmth and comfort. You can get outdoor carpet which vastly decreases the chance of moisture and mold.
Carpets come in a wide variety of colours and styles. If comfort is the priority for your new workspace, an outdoor carpet should definitely be considered.
Vinyl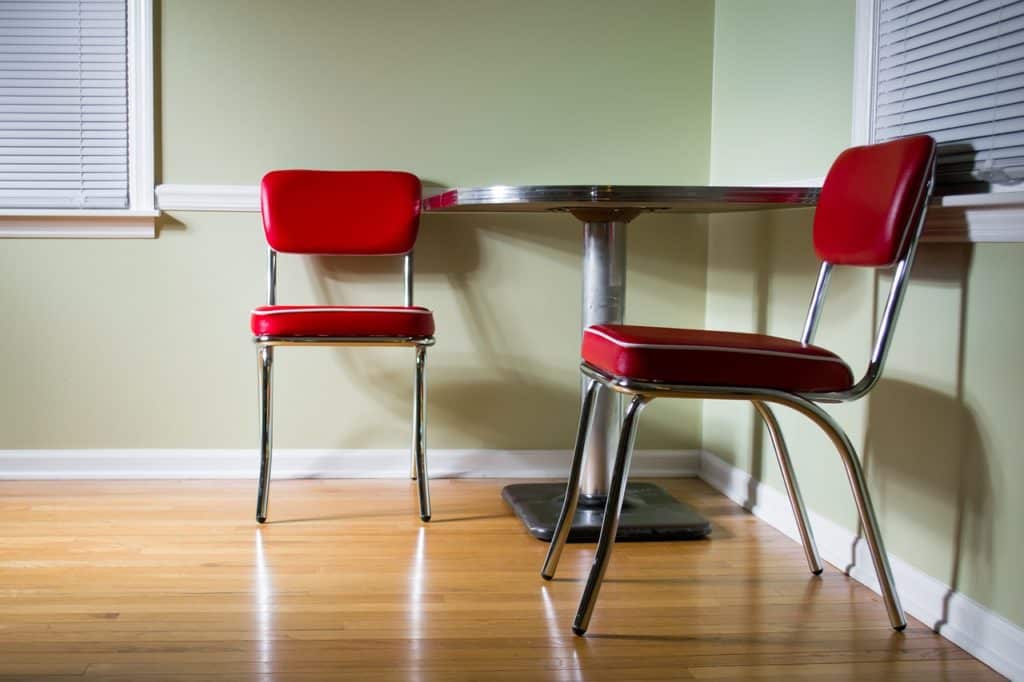 Vinyl flooring, like carpet, offers a wide range of colours and styles. Although vinyl isn't as comfortable to work on as soft fluffy carpet, you eliminate the risks of moisture and mold.
Vinyl flooring is inexpensive to purchase, easy to lay and requires little to no maintenance. If you lay your vinyl with perimeter-glue, you can easily swap out old vinyl flooring for new!
Floor Tiles (carpet)
Floor carpet tiles are your traditional office flooring. If you want a real office-from-home vibe, floor tiles are a good idea. They provide comfort, but not so much that you feel too "at home" and lose productivity.
Floor tiles come in a range of colours and patterns, and are sold individually so you can play around with jazzy patterns. The floor tiles are slotted together and require zero adhesives. This makes for easy installation.
The downside to floor tiles is that they don't clean up very well. Yes, you can drive your car onto them, so they're great for dual-purpose garage conversions; however, if you find any spills from your car, it's likely that you won't be able to remove them. On the plus side, the tiles slot together so they can be easily replaced without having to replace the entire flooring.
Wood Flooring
Wood flooring is an excellent option for a garage conversion. There are so many types of wood to choose from; however, we'd advise that you go with engineered wood flooring over solid wood flooring. Solid wood is a great choice, but as you're converting a garage, engineered wood flooring handles changes in weather temperatures much better.
Similar to floor tiles, wood flooring doesn't need to be glued down. This makes installation incredibly easy, but also means that you can repair and replace your wood flooring just as simply.
Although wood flooring is solid, we'd advise that you don't pick this material for a dual-purpose garage. Over time, the wood will become damaged if used to store a car.
Ceramic Tiles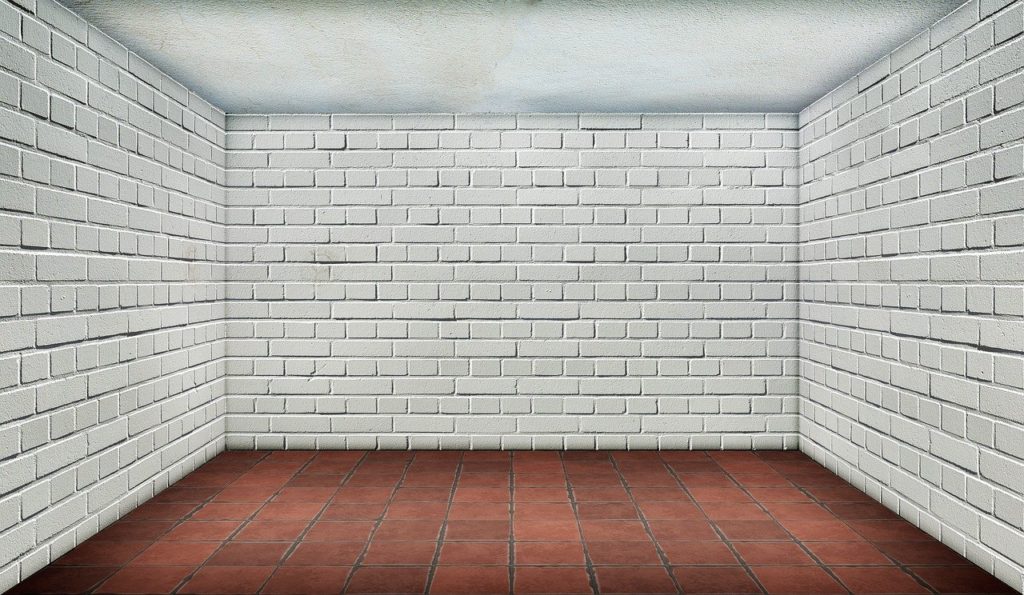 Ceramic tiles are an excellent choice for garage conversions. Although the installation is longer and more difficult than other choices, ceramic tiles are easy to maintain, can handle liquid spills, and easily handle heavy foot traffic.
Ceramic tiles aren't great for dual-purpose conversions though. Ceramic tiles cannot withstand the weight of vehicles.
What Is the Best Flooring for a Garage Conversion?
The best flooring largely depends on how you're going to use the converted garage and what you do for a living. Things to consider are:
Insulation

Floor size and shape

Whether you want to install underfloor heating
As general advice, if you're planning on using the converted garage solely to work in, ceramic tiles are a good way to go. They're easy to maintain, durable, and are great for underfloor heating.
Flooring for garage conversions that require a dual purpose, we'd suggest either floor tiles or vinyl flooring. They're both very easy to install and maintain, and they can easily be replaced if they become damaged or stained.
Garage Conversion Flooring Requirements & Building Regulations

It's highly likely that your garage floor is already durable and strong enough to withstand heavy foot traffic; however, if you're turning your garage into a habitable space, Building Regulations need to be followed. This means that it's likely that you'll need to damp-proof and insulate your garage floor.

Before you lay any new flooring, you must ensure that the floor to your garage is well insulated, damp-proofed, and ventilated. Not only are these Building Regulations requirements but they'll also improve the quality of your new garage conversion. For more information on insulation take a look at our guide: Garage Conversion Insulation: What and How.