When you're thinking about adding a conservatory to your home, there are an awful lot of things to consider.
Obviously, you'll need to pick a conservatory style, whether that's vintage Victorian or timeless gable fronted. You'll need to consider what features you want, and whether a timber or a uPVC frame is right for you. You'll need to look at costs, sizes and find the perfect placement around your property.
It's a lot to think about. A lot of questions, and a lot of potential pitfalls that could impact the appeal of your stunning, sunny, stylish new indoor space.
One question that you might not even have begun to consider is 'does a conservatory need planning permission?'
After all, although it feels like it's all about your home, your space, a conservatory is viewed as a form of extension. And those can have planning implications.
As thorny as the issue of conservatories and planning permission sounds though, it's very rarely a game-changer. Just sometimes, it may impact all those other questions and considerations.
So, before you get too bogged down in decisions, here's our quick guide to what planning permission is needed for a conservatory. Read on to see whether this is something you actually need to waste your worries on.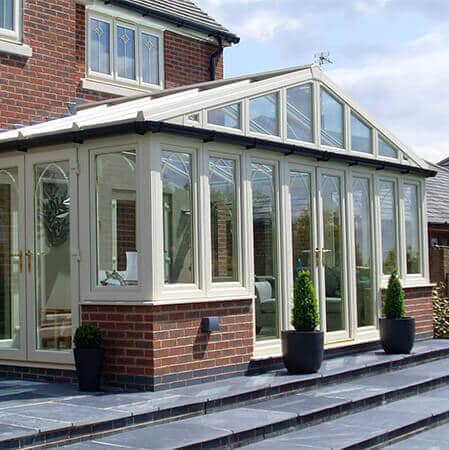 What Is Planning Permission?
Planning permission is a way of asking the relevant authorities if you can carry out a particular piece of building work.
Planning permission doesn't only apply to the building of new estates or dwellings. It also needs to be sought for a range of home improvements. This includes changing the purpose or use of a building (from a shop to a home for example).
Most often, it needs to be sought before extending a building or significantly changing its layout.
Planning permission is a legal requirement for certain building changes. And it isn't just there to make your life difficult either. It's one way of ensuring that people who will be affected by the change get a chance to object or have a say.
It is always up to the person who owns the property to apply for planning permission. If it's your home, you need to seek permission before the applicable building work is started.
If you don't, or if planning permission is subsequently denied, you can be served with an enforcement notice after the work is done. That means you'd have to undo all the modifications and return the property to its previous state.
Adding a conservatory is a wonderful way to gain more living space in your home. It is a form of extension. This is why you should always consider will I need planning permission for a conservatory before starting to build one. Not after.
Difference Between Planning Permission and Building Regulations
If you've been researching into conservatories already, you'll probably have come across the concept of conservatories building regulations. People often confuse planning permission and building regulations for conservatories. It's easily done but in reality, they are completely different things.
For reasons we'll outline below, you won't always need planning permission to put up a conservatory. But any conservatory built will need to comply with all relevant building regulations.
Building regulations are legal standards that all building work must meet. They are set out in a series of 'Approved Documents' and they cover all kinds of building factors. They are designed to ensure that any new building work is safe, energy-efficient and accessible.
Conservatories regulations will cover factors like the energy efficiency and safety of the materials used to build them.
Do You Need Planning Permission for Conservatories?
Things can get complicated when it comes to conservatories and planning permission. The unfortunate answer to the question 'Do I need planning permission to build a conservatory or not?' is 'Maybe'
In general, adding a conservatory to your house falls under the category of 'permitted development'. A permitted development is something that can be built without seeking planning permission first.
There are conditions to this though. There are limits on the size and placement of the conservatory. Some of these depend on the house that is being added to. There are also restrictions depending on the location of your house.
The requirements around planning permission for conservatories can appear overwhelming but they don't need to be.
To clear things up here are some common questions asked by people asking themselves "what planning permission do I need for a conservatory?":
How big can a conservatory be without planning permission?
One of the easiest factors to address is what size conservatory without planning permission you can build.
To qualify as a permitted development, there are a few size requirements all conservatories must meet:
They cannot be taller than 4 metres high
They cannot take up more than half of the existing outdoor space around the house
They cannot be more than a single storey high
The specific area allowed for a conservatory is determined by the status of your house:
For detached houses, the conservatory can only extend for 8 metres or less
For semi-detached or terrace houses, it can only extend for 6 metres or less
Do I need planning permission for a lean-to conservatory?
Of all the various conservatory styles, it is rarely necessary to seek lean-to conservatory planning permission.
This is because of the size limits on this type of conservatory. The square footage and height of a lean-to style conservatory would not normally be big enough to exceed the restrictions of the permitted development status.
When do you need planning permission for a conservatory?
Obviously, if your conservatory exceeds any of the size stipulations we've shared, you will need to seek planning permission. This also applies to any design which would include a balcony, veranda or platform within it.
There is also one more occasion where you will definitely need to get planning permission for a conservatory and that is when you live in a conservation area.
This means that your house is located in a place that is considered historically or architecturally interesting. Conservation status aims to protect and preserve the features of that area. It can mean even minor changes to the exterior of your property require planning permission.
If you are unsure whether your property is in a conservation area, you can usually check with your local borough council.
How do I get planning permission for a conservatory?
In most cases, you won't need to get planning permission for your conservatory at all. If you do find you need to seek planning approval, you can make an application online at the government planning portal.
All planning applications will then go through a 'Neighbourhood Consultation Scheme'. In most cases this a formality, but it does ensure your neighbours won't be negatively affected by your new addition and protects you from any future complaints.
Do I need planning permission to change my conservatory roof?
One thing that to used confuse matters around planning permission for a conservatory was around the materials used on the roof.

Historically, around 70% of a conservatory roof had to be glazed to qualify as a permitted development. This leaves a lot of people confused about whether a conservatory with tiled roof needs planning permission today.

The answer to that is no. In 2010 this stipulation was removed. These days, if your conservatory meets all the other conditions we've outlined, you won't need planning permission for a conservatory roof.

This is also great news for people looking to upgrade their current glass conservatory roofs to tiled ones. You don't need planning permission as long as the height of the roof doesn't change.

If you're planning a bright, beautiful home extension, you should always take time to consider whether planning permission Is required for a conservatory.  Luckily, almost always, the answer is no.

Hopefully, this article will have helped you identify if your planned conservatory is the exception that proves the rule. If it is, or you still aren't sure, then contact us for further advice.

And, if you now feel confident that you can begin construction without concern, take a look at our range of light, bright, and airy conservatory options and find the perfect conservatory for your home.