When it comes to home improvements, adding a conservatory is one of the most popular options in Britain. And it's easy to see why. Just imagine yourself stretching out in a sun-soaked room, gazing across a lush green garden. Warm, carefree, content.
But there may be another reason so many new conservatories are popping up around the country. Surveys suggest that 84% of people believe that a new conservatory will add resale value to their home.
As the housing market grows ever more expensive, it follows that people might want to increase the value of their property. A conservatory seems an obvious choice, when it brings day-to-day happiness as well as long term financial benefits.
But are these people right? Will a conservatory add value to every single house in every single case? Is it really that simple?
In this post, we'll answer the question 'does a conservatory add value to a property?' We'll also consider whether the investment is always worth it, and ask just how much of a value increase you might be able to see.
Are Conservatories Worth It?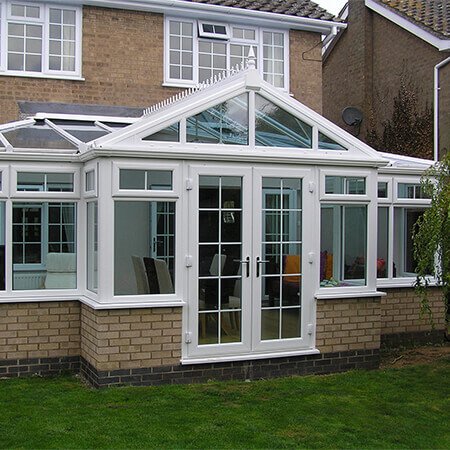 You should never rush into expensive decisions, and a brand-new conservatory for your home is a significant investment. It's only sensible that you should ask 'is a conservatory a good idea?' and weigh up the pros and cons before committing.
The pros of building a conservatory are numerous and rather obvious. It increases your living space with a bright, beautiful room that costs far less than a similar-sized brick-built extension would.
A conservatory also offers a generous gateway to your garden. With all those windows you can enjoy the greenery and witness the wildlife of your garden all year round, without worrying about a brisk chill in the air, or the wind whipping away your breath. They are glorious suntraps and the perfect place to bask in warmth and light.
The final benefit a conservatory can have is on the value of your house. A significant increase in the living space of your home can be reflected by an increase in the value of your house when you come to sell it.
There are only two real drawbacks to adding a conservatory to your home. The first is the garden space that you sacrifice to accommodate the new room. Of course, that may not feel like a sacrifice when you consider what you're swapping it for. A place where you can still enjoy your garden views just without worrying about the whims of the weather.
The second drawback is the cost. A conservatory is a far more cost-effective way to increase the size of your home than a brick built extension, but it still isn't cheap. Which? magazine suggests the average cost of a conservatory extension is around £15,000.
Building a conservatory should easily increase your daily standard of living, giving you a beautiful new room to escape to and relax in. When it comes to the question of whether conservatories are worth the money, you should always factor that in as an additional positive.
But in terms of adding value to the price of your property, something so practical rather than personal, it can be a more complicated issue.
How Much Value Does a Conservatory Add to Your House?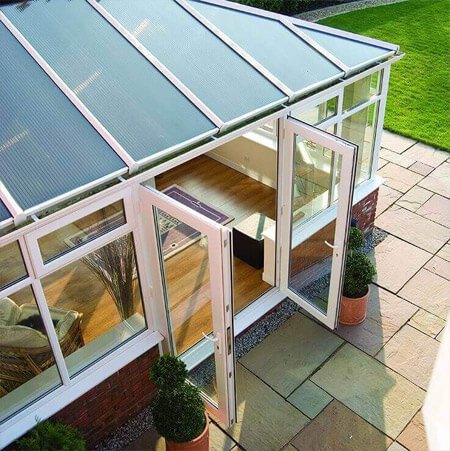 It's often quoted that building a conservatory will add 5% to the value of any house.
This figure is only representative and slightly simplistic. When you're considering the issue of how much does a conservatory add to house value, the answer will always be a little more complicated.
That's because the amount of value added depends on the size, quality and placement of the conservatory. It's not always as simple as just adding one to your home.
For a conservatory to add value it needs to be in keeping with the rest of your home. A period property won't necessarily benefit from a brilliantly modern uPVC lean-to addition, however stylish or feature-filled that conservatory is.
But build a beautiful timber framed Victorian faceted conservatory and you'll easily enamour any potential purchasers. You should see a significant increase in your property value and in buyer interest if the house goes on the market.
Another factor to consider in the quest to decide how much value does a conservatory add is your garden size.
As desirable as a sunny room like a conservatory is, it's not always as important as unadulterated outside space. There is no draw to a conservatory that butts up against your garden fence, devours your whole lawn or flattens all your flowerbeds.
With your conservatory, it's a question of compromise. If you've got a decent sized garden, with enough space to accommodate a well-tended lawn, patio or some shrubbery as well as your conservatory, then taking some of that ground to build on is fine.
In this situation, you'd increase your indoor living space (a guaranteed way to add value) without sacrificing the impact of your outdoor space. Actually, you may well increase that impact too, by creating an all-weather way to enjoy your garden.
But, if your garden is more postage stamp than palatial, giving up that precious outdoor space won't add anything to your property price. In fact, it may even lower the value of your home.
If you have a little space to spare but not a lot, then there is always the option of a lean to conservatory, but this smaller space may not offer the impressive value increases of a larger addition.
The final thing to consider when looking at how much value does a conservatory add to a property, is the initial outlay to build it. To truly identify the value that's been added, you first need to know how much does a conservatory cost to build and take that into account.
Initial conservatory costs can vary dramatically. Size, quality of materials, and design will all impact the build cost. They will also reflect in the value increase. The bigger, higher-quality and more well-matched to your existing house that a conservatory is, the more value it could add. Conversely, something cheap, unsafe or shabby may actually lower the value.
If the potential added value is a major factor in your decision on whether or not to add a conservatory, there is one last option that might help settle your mind. Speak to local estate agents.
Ask them to value your house in its existing state, and offer an estimate of the value increase a conservatory could provide. They will know about similar properties in your area and should be able to provide educated predictions about the potential effect of a conservatory.
Conclusion
Any feature that adds living space to your home will have a positive impact on its resale value. The question is less 'will it add to the value?' and more 'by how much?'. If you're interested in improving your home and its prospects on the market, take a look at our range of timber built and uPVC conservatories. Alternatively, you can give us a call to discuss your options.